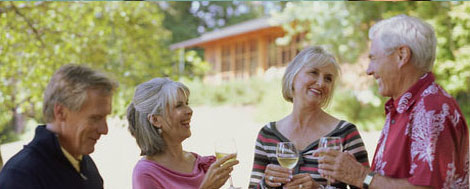 Periodontitis in Elders
Periodontitis is very prevalent in older populations. In fact, at least 50% of non-institutionalized individuals over the age of 55 have periodontitis. Moreover, a minimum of one out of four people over 65 have lost all of their teeth. The majority of older adults are affected by receding gingivae or gum tissue. Gum disease, or periodontal disease, and tooth decay are the leading causes of tooth loss and tooth bone loss among the elderly.
Recent research has suggested that periodontal disease is associated with a series of major health concerns including heart disease, stroke, respiratory disease and diabetes.
Medications are frequently administered to older adults that can negatively affect oral health and dental treatment. Medications such as antihistamines, diuretics, pain killers, blood pressure drugs and antidepressants can cause oral conditions such as dry mouth, soft tissue transformations, taste alterations and gum overgrowth. Dry mouth renders these individuals more prone to tooth decay and periodontal disease. A dentist or periodontist specialist can counsel you on methods of restoring moisture.
When visiting a periodontist, it is important to describe any medications or herbal remedies you are taking.